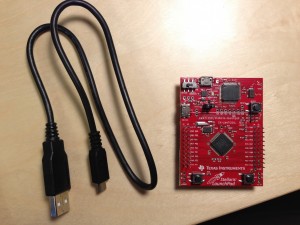 My brand new pair of Stellaris Launchpads from TI just arrived via FedEx a few minutes ago so I couldn't resist opening one up. I don't have time to play with them now, but I noticed a few things right off. First, the emulator is also an LX4F120H chip just like the target device, so there are two identical MCUs on board. Second, the JTAG interface is broken out onto a row of pins, but it's not disconnectable from the target. That said, there IS a 'device/debug' switch. I'm not exactly positive how it works.
Beyond that, plenty of pins are broken out. You're given a second USB Micro-B port to use the target as device/OTG. You get a couple of switches and an LED or two. Finally, the pins broken out to .100″ male+female headers, which is nice. Notably, the male pins are facing up – opposite of Arduino, but perhaps more desirable. It means you can't plunk it down into a breadboard, but then you couldn't anyway since each row of headers is dual. Instead, it'll be much easier to wire-wrap to, which is what you'd probably be using male pins for anyway. And if you come up with a project that needs multiple MCUs, they DO, in fact, stack vertically one on the next without anything shorting out or bumping. You'll be tying all your GPIOs together, but then that can be dealt with in software (if board 1 is in charge of driving pin X externally, board 2 can be directed to put pin X in High-Z mode, and so on).
All in all, AWESOME little boards for $5! Especially considering that, once they're available wholesale, the bare chip goes for $4.40@1kU, and there are two on the board!